Apps for mood tracking, breathing exercises, and chatting with a professional.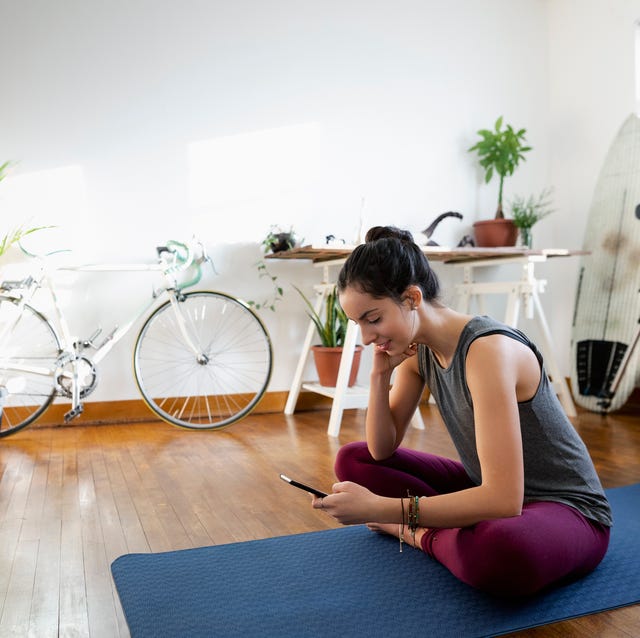 Ask any therapist, and they'll tell you that everyone can benefit from therapy. It can help you work through any mental health issues you might be facing, like anxiety and depression, and help you overcome everything from deep-seeded commitment phobia to imposter syndrome. Just having someone who will listen to and decode all your concerns in relationships, with family, at work, or generally in life (because hey, it's hard) can be extremely helpful for your mental health.
The only problem is…therapy can be expensive, and not everyone has health insurance that will cover it. What's more, you might be so busy that it's hard to find the time to visit a therapist for even an hour every week. Then again, you might already go to therapy but want something more, like access to a therapist or certain therapy tools even when your specific therapist isn't available. In all of those cases, a therapy app can be a great solution. Mental health apps allow you to dip your toes into the various therapy methods before making a commitment to seeing a therapist in person, and they can also help you supplement any traditional therapy you're already doing.
While an app certainly doesn't replace traditional therapy, especially for people who use it to manage anxiety or depression, they're worth checking out. "Apps that support therapy can be very helpful," says Rosara Torrisi, PhD, a sex and relationship therapist. If you're not sure where to start, talking with a therapist to figure out what your therapy goals are can help you narrow down which apps make sense for you.
To start, check out these 25 therapist-recommended apps that either provide therapy from a professional or help you continue your therapy, mental health, self-care, or mindfulness work outside of the office.
1 Paced Breathing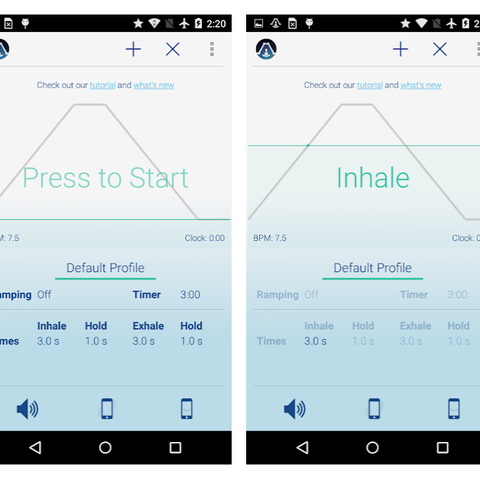 Paced Breathing is an app for Android phones that's pretty much exactly what it sounds like. It helps you pace your breathing when you're feeling anxious, stressed, or panicked.
The app is free to download on Play Store, but also offers in-app purchases.
2 Calm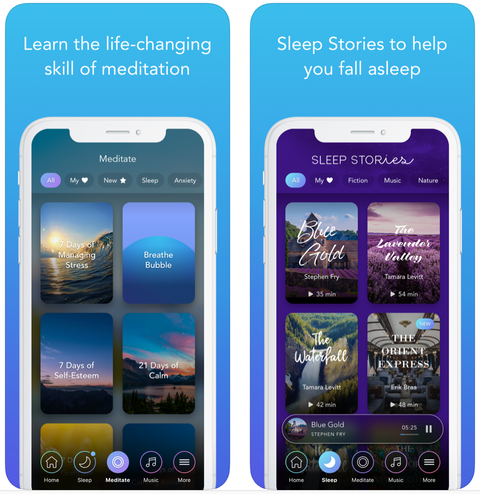 Calm promises that you'll "sleep more, stress less, and live better." How? Through guided meditation, relaxing music and sounds for sleep, videos on mindful movement and stretching, mindfulness classes, and images of nature.
You can download the app for free on the Apple App Store. In-app purchases range start at $14.99.
3 Talkspace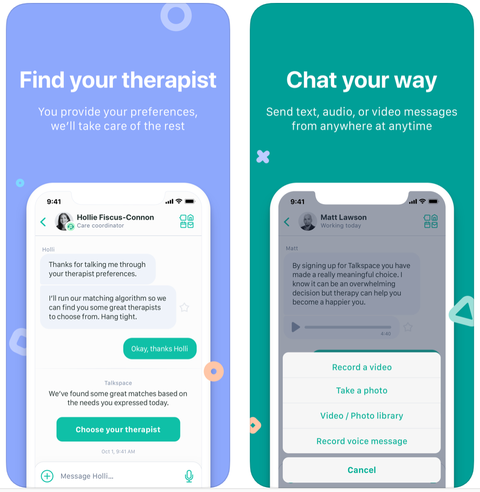 Talkspace virtually matches you with licensed therapists who you can text anytime you need. The app has traditional therapy, therapy for teens, and couple's therapy.
Therapy sessions cost $66 per week for typical therapy and $99 per week for couple's therapy.
4 Gothman Card Apps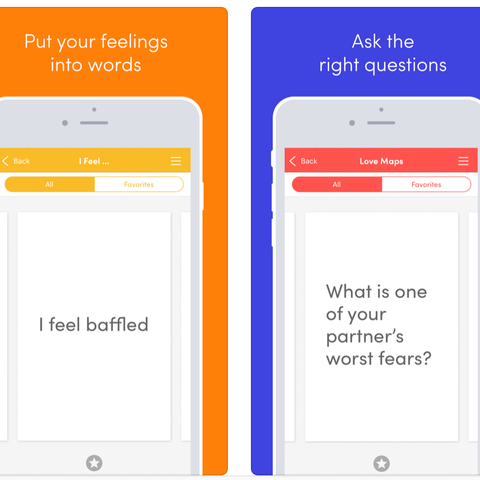 This is an app-based version of cards used at The Gottman Institute, a research-backed institute focused on the study of marriage and family therapy. Husband and wife John and Julie Gottman, both clinical psychologists, head the institute. With this app, you'll be privy to a deck of cards the Gottman's created for couples in need of therapy. The cards help jog your memory to share your feelings with your partner, ask about their feelings, and plan intimate moments.
The app is free.
5 Breathe+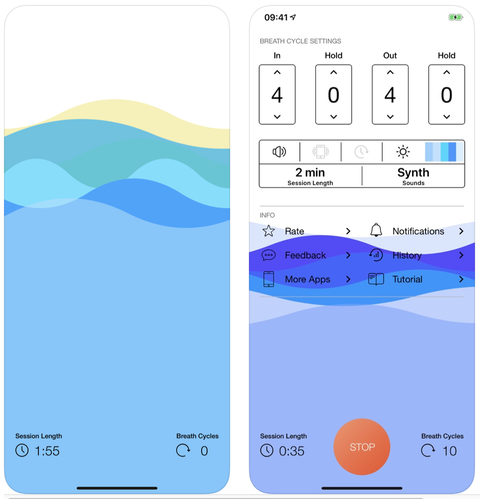 This app is similar to Paced Breathing, but for iPhone users. With this app, you can practice deep inhales and exhales to calm yourself down when you're anxious or panicked.
The app is free.
6 Insight Timer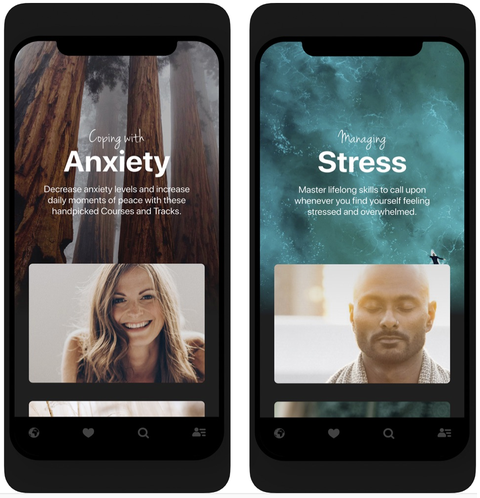 Insight Timer is a large, app-based library of guided meditations. The free version includes 30,000 free meditations, including a group specifically made to aid your sleep.
The premium version includes a set of 10 and 30-day courses for $5 per month.
7 SuperBetter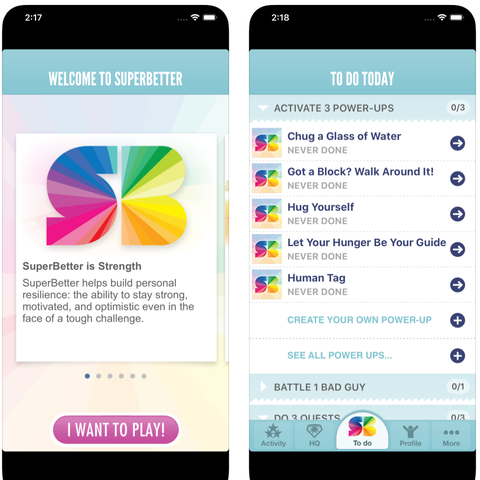 It might seem really strange to attempt to battle anxiety or stress through a superhero game, but that's exactly what this app promises it will do. In the SuperBetter app, you're a superhero battling bad guys by activating power ups. In order to do so, you have to complete real-life actions like "chug a glass of water" and "give yourself a hug." Sounds kind of fun, and funny, no?
The app is free on Apple's App Store.
8 MoodKit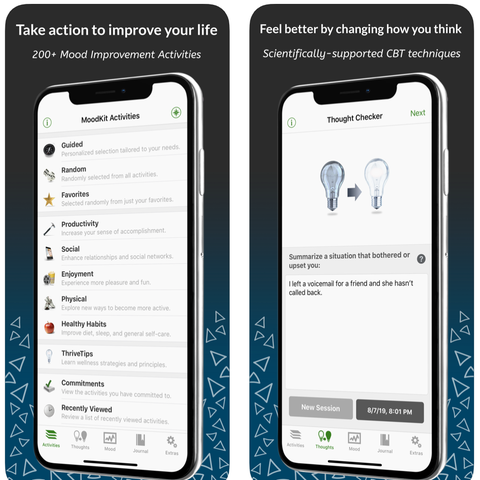 MoodKit was developed by two clinical psychologists to help people learn how to change the way they think based on Cognitive Behavioral Therapy (CBT).
The app is $4.99 in the App Store.
9 MindShift CBT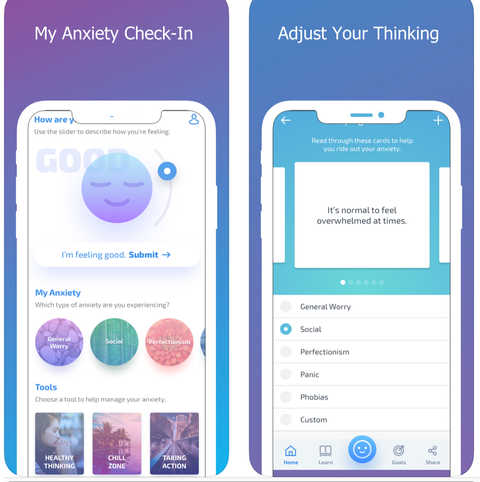 This app was developed by Anxiety Canada Association and is designed specifically for teens and young adults who have anxiety. The app helps you face intense emotions and learn how to rethink living with anxiety.
It's free in the App Store and Play Store.
10 Self-Help Anxiety Management (SAM)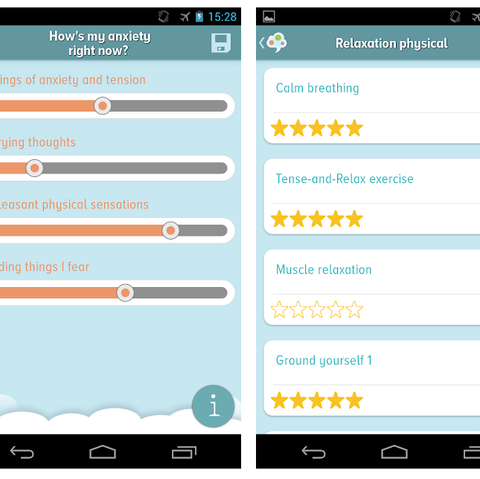 SAM is for people who are ready to take their anxiety management into their own hands with the tools they developed with their professional therapist. With SAM, you can create your own plan for handling anxiety attacks.
This is a free app available on the App Store or Play Store.
11 CBT Thought Diary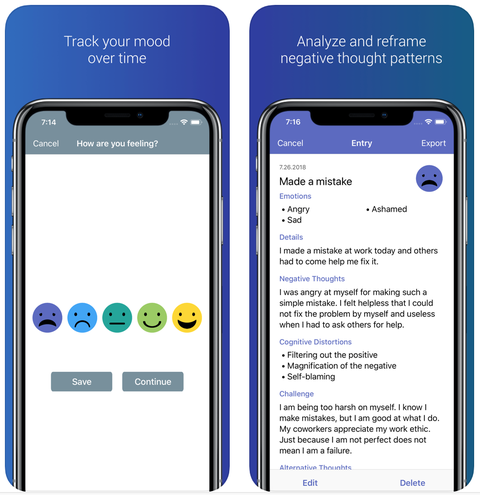 This app is based on the idea of CBT, which focuses on first becoming aware of your feelings and your reactions to them, and then working to change those reactions. CBT Thought Diary helps with the first part—the recognition. Here, you can write down your emotions and reactions.
It's free and available in the App Store and Play Store.
12 BetterHelp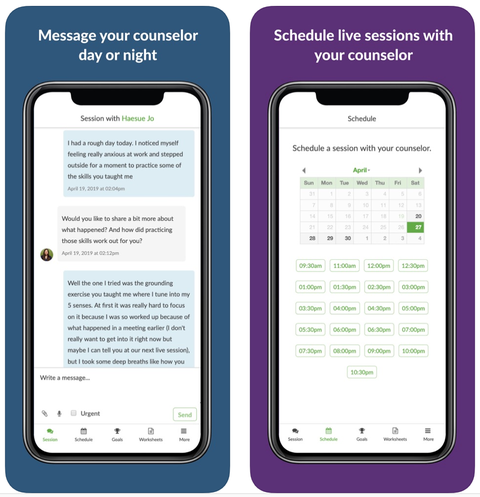 Like TalkSpace, BetterHelp connects you virtually with a licensed therapist.
Therapy plans on this app start at $40 per week. The app is available on the App Store or Play Store.
13 Larkr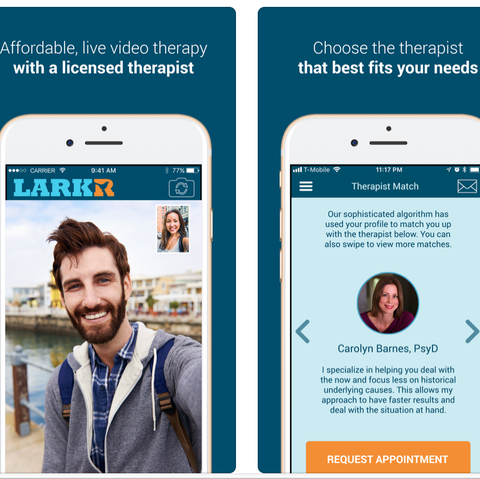 This app also connects you to real therapists online, with unlimited access through instant messaging.
With Larkr, you'll pay $85 per 50-minute session. The app is available for iPhone only.
14 7Cups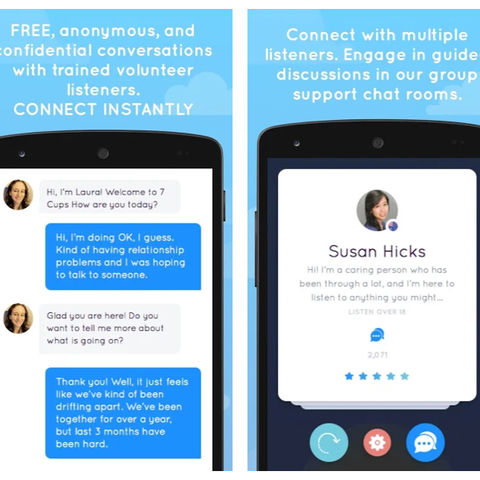 This is another app that's best for teens or young adults. 7Cups is a talk-based app that allows you to message someone when you're overwhelmingly stressed. The person on the other end of your text isn't a professional therapist, but is a trained volunteer, similar to if you'd called into a crisis support line.
The app is free for Android but offers in-app purchases.
15 Headspace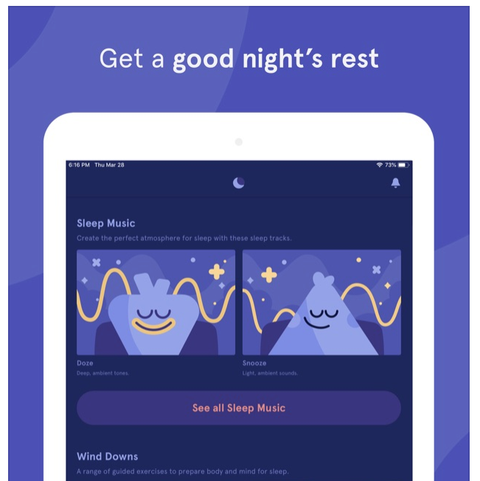 Many therapists recommend meditation for stress relief, and Headspace can help you learn how to do it with lighthearted (and very cute) cartoons guiding each meditation.
The app is free for download for iPhone or Android but offers in-app purchases.
16 Sanvello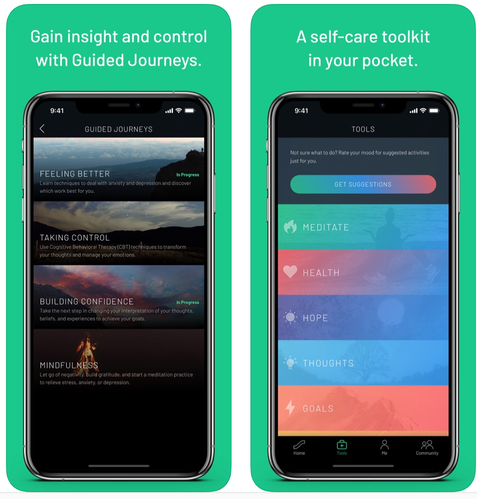 Sanvello, previously called Pacifica, gives you the tools to manage your stress and anxiety in a healthy way. The app is backed by the expertise of their chief medical officer, Monika Roots, MD, a licensed psychiatrist.
Sanvello is free to download on iPhone or Android with a subscription that costs $8.99 per month or $53.99 per year.
17 MoodPath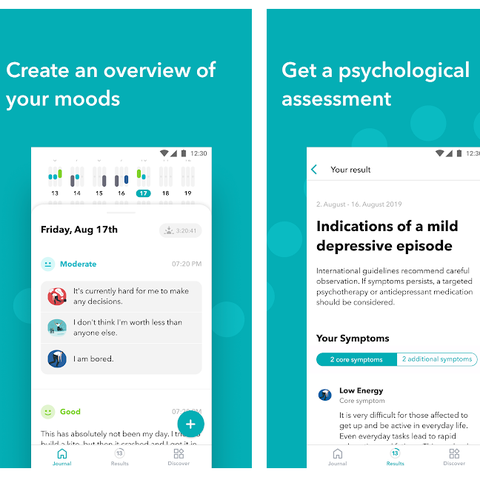 MoodPath is like a virtual journal. It allows you to keep track of your daily moods through asking a series of questions gauging your feelings every day. The app will look for signs of depression and give you a summary of your moods every two weeks, which you can then take to your therapist.
The app is free for Android or iPhone.
18 ReGain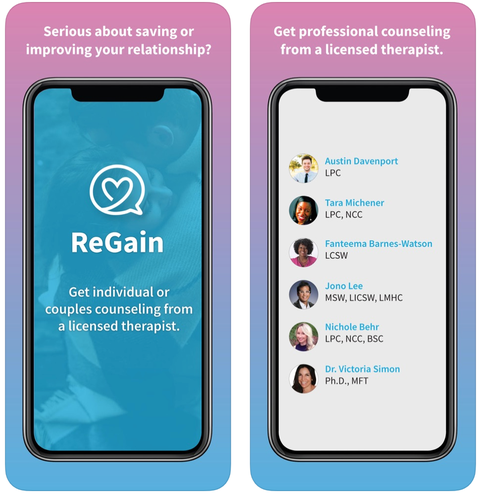 ReGain is specifically for couples therapy, and promises that you'll regain intimacy, affection, and other happy feelings for yourself or your relationship. You can sign up as a couple or individually and be connected to a licensed relationship therapist.
The app is free for download on iPhone or Android, but sessions range between $40 and $70 per week.
19 MDLIVE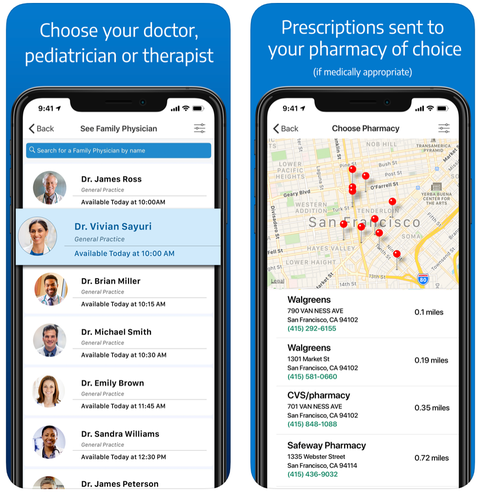 MDLive is a general health app that connects you with virtual doctors for typical health complaints like ear infections and rashes, but it also connects you to behavioral experts who can address grief, trauma, and panic disorders.
Get the app on iPhone or Android for free.
20 Happify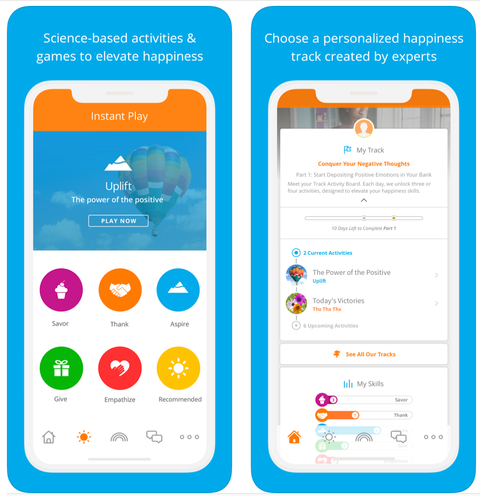 Here's another for those out there who want games to relieve their stress. Happify claims to have science-backed games to reduce stress and help you live a happier life.
The app is available for free on iPhone and Android, but offers in-app purchases.
21 Depression CBT Self-Help Guide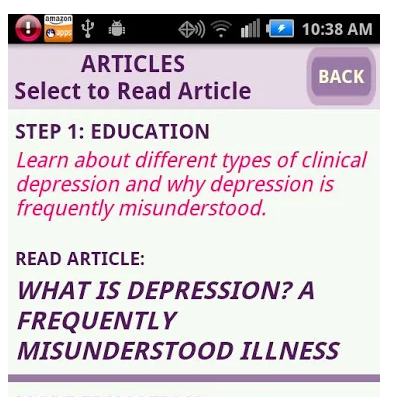 This app helps you to self-manage your depression and mood changes. It includes a thought diary as well as lessons on emotional training and relaxation.
Get the app for free on iPhone or Android.
22 iPrevail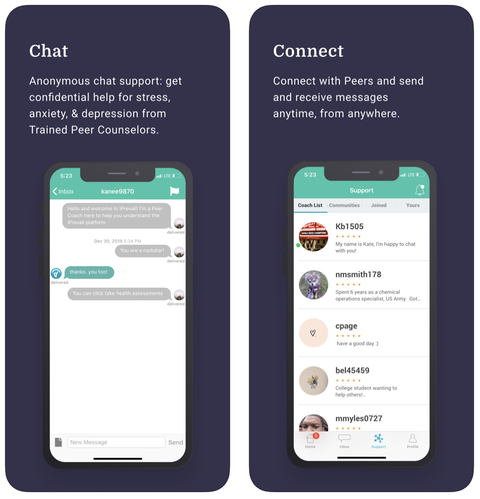 iPrevail is for when you feel stressed, angry or depressed and just need to talk to someone. The people you'll talk to are "trained peers"—not professional therapists—so use this one essentially like a well-trained friend who is there to listen to your problems.
Get the app for free on iPhone.
23 distrACT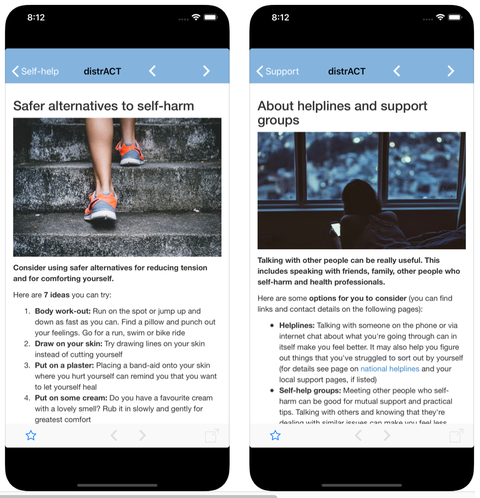 If you're having suicidal thoughts or thoughts of self-harm, distrACT works to give you quick, accurate information about these thoughts and how to get through them. The app was created by doctors who have expertise in self-harm and suicide prevention.
Get the app on iPhone or Android for free.
24 Thrive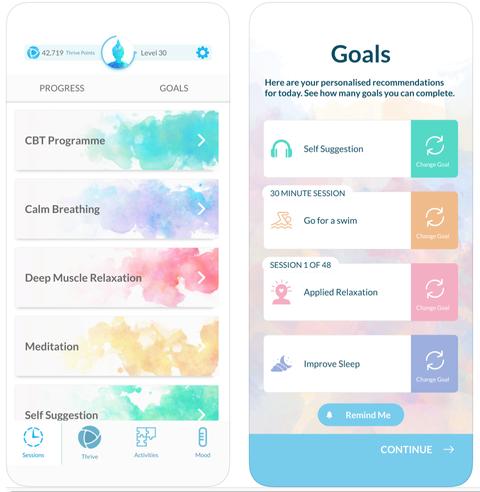 Another game-based app, this one teaches you how to prevent and manage stress and anxiety either before a stressful situation or long-term.
25 Happy Not Perfect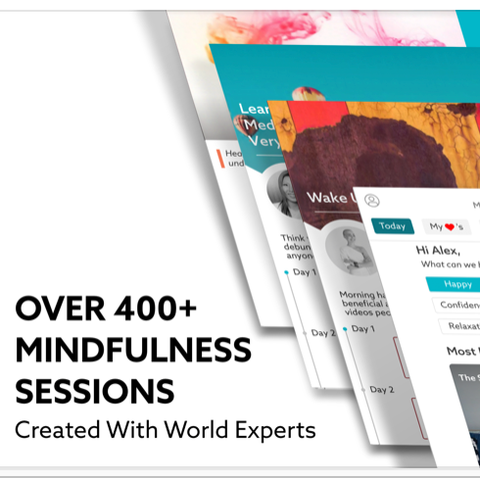 This app features a Daily Happiness Workout, which is a quick 8-step routine to help you boost your feel-good hormones and relax anywhere. The workout features breathing and journaling exercises, as well as meditations, inspiring quotes to share, and mood tracking.
The app is free.